not featured
2023-09-21
Home
published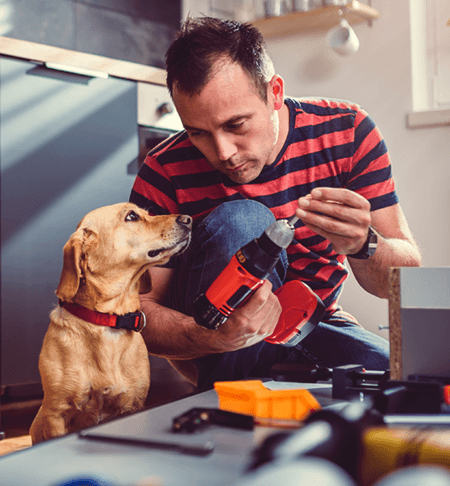 5 Home Improvements to Make With a Home Equity Loan
Making improvements to a home is something many homeowners dream of doing and finding the money to do so is easier than you think. Large expenses like home improvements are made a reality for people when they choose to tap into their home equity. Home equity loans often come with better rates than personal loans and can be accessed easily through local credit unions.
Do you know how much home equity you currently have? Home equity can increase due to paying off your loan balance over the years or because the value of your home has increased since you became the owner. Either way, when your equity reaches 20 percent, you may be able to apply for a home equity loan with a credit union.
A home equity loan allows homeowners to use their equity as collateral on their home. The amount of the loan is determined by the value of the property, and once your home gets appraised, you may be surprised at what that number may be. Capital Credit Union offers these types of loans to eligible homeowners at competitive rates. You can do anything you want with the money from this loan, but many people choose to use it for home improvements that can contribute to the value of their home.
Here are a few ideas for home improvements you can make with a home equity loan.
1. Needed Home Repairs
When it comes to using your home equity loan to make home improvements, it may be helpful to start with the things that need to be done before making any cosmetic improvements. For instance, if your home is in need of repairs that will prevent further or recurring damage, address those first. Anything broken, dented, or not working properly should be assessed and fixed so that things in your home are in good working order.
This can be helpful for both homeowners who intend to stay in their homes and those who are planning to sell. Making needed repairs to things such as windows, pipes, or roofing can help save you money on your energy bills while also helping you avoid costly repairs when things are damaged further. If you're selling, these repairs can also help speed up the selling process and pass a home inspection more easily.
2. Curb Appeal Upgrades
One of the first things that people see when arriving at your home is your front yard. This space is what makes your home inviting to people and provides their first impression, so it's an area you want to pay attention to. Improving curb appeal with your home equity loan could really pay off if you're looking to sell soon.
A fresh coat of paint can go a long way toward improving a home's curb appeal. Change the color of your trim or replace wood siding with aluminum for an upgrade. Installing a new roof or gutters will not only improve curb appeal and increase value, but also protect your home from the elements.
Landscaping upgrades are another way to improve your home's curb appeal. Adding edging to areas can give them a more defined look, and planting grass or laying sod can help to fill out any empty spots. If you have a driveway or a sidewalk path leading up to your home, you could improve it by repaving. You can also plant flowers, trees, or bushes that will give your lawn some vibrant color. Curb appeal upgrades are a great way to improve the visual components of your home from the outside.
3. Kitchen Remodel
When it comes to big-picture home improvements, you'll want to focus on remodels to the most-used areas in the house. One room that people can agree gets the most traction from homeowners is the kitchen. An efficient and well-laid-out kitchen can be an asset to homeowners and potential homebuyers as well.
Because many people enjoy cooking and spend a lot of time in the kitchen, it can be helpful to upgrade your appliances if they're outdated or to add extra counter and cabinet space. If you're able to do so, expanding your kitchen could be a great home improvement idea to give you even more room in this highly used area. You can also consider upgrades like new light fixtures, granite countertops, or laminate flooring. Kitchens are a focal point for potential home buyers, so giving that space some attention could really pay off.
4. Bathroom Remodel
Bathrooms are another area in the house that can benefit from a home improvement equity loan. Since they are also among the most-used common areas of a home, modernizing can be an asset and may even increase your home's value. Updating sinks and replacing outdated showers can be a nice way to make your bathroom feel more up to date. Adding storage areas can also help to keep bathroom areas more organized.
Another way you can use your home improvement equity loan is to add an additional bathroom to your home. If you live in a home that only has one bathroom currently or doesn't have a bathroom on every floor of the house, adding an additional bathroom could be a good decision. This can make your home a more convenient place to live as well as make it a more enticing purchase for potential buyers down the road.
5. Adding Additional Living Spaces
When it comes to your home's square footage you may feel like you need a little more room to live comfortably. Many people daydream of having more space in their living room or adding an extra bedroom when their family starts to expand. A nice deck or patio can also increase your living space, providing an area for entertaining guests or just enjoying a summer evening with the family. Finishing your basement or converting the attic to a bedroom could also grow your home. Any space that you add on will ultimately add to your total square footage and potentially increase your home's value.
Home equity loans can provide homeowners with the funds to make home upgrades a reality. If you've been building equity in your home, you might be eligible for a home improvement home equity loan or line of credit (HELOC). Reach out to Capital Credit Union to discuss your options, and get ready to have the home you've always wanted.
These suggestions are general recommendations and may not be best for all persons. Individual's financial abilities and decisions may vary based on need. Nothing available on or through this Website should be understood as a recommendation that you should not consult with a financial professional to address your particular information.