not featured
2022-12-07
Security
published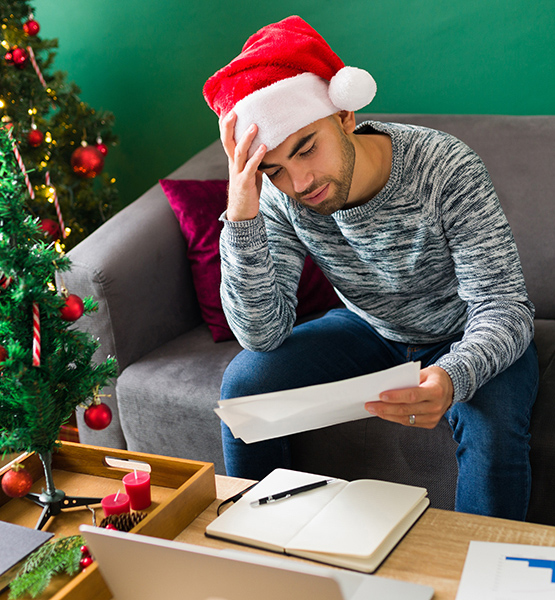 The Most Fraudulent Time of the Year
Ahh, the holiday season.  A time when your inbox may be just as full of scammers as your stocking is with candy. If you're reading this, chances are you've received some sort of fraudulent message recently. Whether it be an "iffy" text message, a questionable email, or even someone requesting an online payment for that holiday puppy whose price is just too good to be true. (It is.) Scams are more prevalent than ever, especially during the holiday season.
As a credit union, we value our members' privacy and security, both physically and virtually. While our team is actively at work trying to prevent fraud and strengthen our cybersecurity, people still fall victim to scams and incur losses every day. In 2021, Capital Credit Union and its members experienced over 2 million dollars in fraud attempts. And that's just what was reported.
Yes, some messages may be obviously fraudulent, with spelling and grammatical errors galore. But malicious individuals are becoming more intuitive. They're learning to understand your routine and know that in the hustle and bustle of the season, you might not even notice that one extra letter in the "USPS Support" email. They know you might panic if you receive a message about an "unauthorized transaction" on your account.
While you're focused on finding someone the perfect gift, making an abundance of transactions, and anticipating packages in the mail – scams may be even trickier to spot. But there are still ways to evaluate whether messages are legitimate:
Look closely. Does the sender's name match the sender's email address? A mismatched name and email address might indicate a malicious individual pretending to be someone else.
Ask yourself, were you expecting this email or text message? If you receive an email or text asking you to urgently click a link, open an attachment, or provide sensitive information without you initiating that conversation, it may indicate that it is fraudulent.
Double check the information. If you are ever alerted of suspicious activity on your account, it is always best to open your trusted banking app or use a web browser and log in to view your account activity. Do not click any links or call any numbers they provide.
Do not provide personal information. If there is actual suspicious activity with your account, you may receive a phone call, text, or email. However, there will never be a link included and you will never be asked to provide codes or private login information.
Reach out. If you're still unsure, it doesn't hurt to call that individual or company and ask if that email or text message is legitimate. As a side note, it is always important to call the phone number you find on a company's website rather than the one included in the text message or email as it may be fake.
The holidays are chaotic, we get it. But take a moment, take a breath. Don't touch that link to "track your package." Don't open that attachment with your "order invoice" from an unknown email. Don't send money to anyone before you verify who's at the other end. 
If you're not sure if a message is legitimate, or if you think you've experienced fraud, you can give us a call at 920-494-2828.